Landscaping Charlotte, NC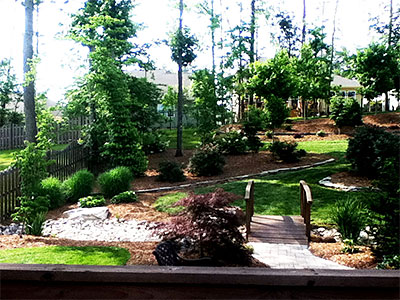 If you are looking for a landscaping company with extensive experience in the field, we are the right company to call. We have been serving Charlotte, Huntersville, Matthews, and other areas in North Carolina. Our completed projects in these areas are known for their unique designs and stunning landscape features. Please call us today so we can discuss with you the various design options for your landscape development project.


Creating Awesome Landscapes
At Huntersville Landscaping, we take pride in our ability to create one-of-a-kind landscape designs for our clients. We have creative landscape designers who have lengthy experience in designing residential and commercial landscapes. Since they're from North Carolina, they know the best feature or amenity to include in their design proposals. They will only recommend plantings that will thrive well in the state's peculiar climate.

Our crews can also create a specific theme for your landscape by combining different landscaping elements. For example, we can create a nature-like outdoor environment by adding specific types of plants and water features. We can also mix and match annuals and perennials to create an interesting garden that changes color every season. Our approach to landscape design always results in awe-inspiring outdoor areas for our clients.


Experienced and Versatile Landscapers
We've been in the landscaping business for years, making us experts in all aspects of landscape design and installation. Clients from Charlotte and nearby areas can hire us to work on these tasks: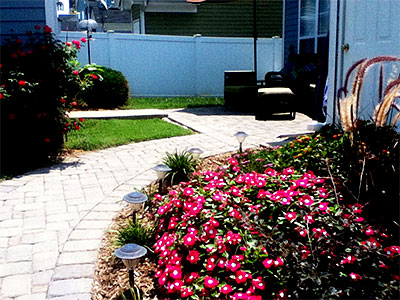 Softscape installation. We can source and install all your needed plantings. We have partner nurseries that can provide us with healthy turf, flowering plants, shrubs, and ornamental trees. We have in our team experienced plant experts, so you are assured that these plantings will thrive and grow healthy once installed in your property.


Hardscape installation. You can also hire us to work on various hardscape features in your property. We can build for you amenities that will greatly improve the functionality and aesthetics of your outdoors. From garden steps to creating walkways around your landscape, we can install them for you.


Lawn installation and maintenance. Another expertise of Huntersville Landscaping is lawn installation and maintenance. We have already installed thousands of square feet of turf on residential and commercial properties in Charlotte, NC and nearby areas. Our crews can perform sodding or seeding on lawns, depending on our clients' preferences. We also offer different lawn care packages to suit the needs and maintenance requirements of our clients. Some of the lawn care tasks that we offer include mowing, trimming, weeding, fertilizing, and mulching.


Reliable Landscaping Company in North Carolina
One of our goals here at Huntersville Landscaping is to provide our valued clients with professional and expert services. That's why we use only quality materials and supplies for our landscaping projects. Our men are also experienced and skilled in installing various landscape features and amenities. In fact, our North Carolina clients commend us for our professionalism, quality workmanship, and versatility.

With our capabilities and resources, we can promise you a standout landscape complete with features and amenities that you desire. Call us at 704-340-7201 for all your landscaping needs.