Paver Installations
These are incredibly versatile products that can be used in any area of your front or back yard. While the installation of these units may seem easy, it requires some creativity and skill to create unique patterns and designs.

Companies like Huntersville Landscaping offer high-quality hardscape design and installation services to property owners in Charlotte, Davidson, and Huntersville. They also cater to clients in and around Cornelius, Mooresville and the Lake Norman Area, NC. If you want paved outdoor features that are appealing and durable, it's best to hire professionals like them for the job.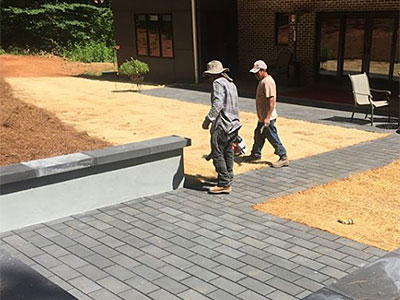 They make sure that you get the kind of outdoor spaces that will provide a good return on investment. If you are getting various areas of your landscape designed and uninstall simultaneously, it helps the hardscape designers create a very seamless look in the paver installations. Paver stones can be used for various outdoor areas and features such as:


Patios and decks
Walkways, pathways, and driveways
Pool decks
Entryways and courtyards
Fire feature zones
Other
Benefits of Pavers
As mentioned at the outset, while there are numerous materials available in the market, many property owners prefer the use of paver stones. There are several advantages to using these products:


Pavers are available in a wide variety of designs and shapes which allows skilled hardscape designers to create unique designs and themes on their clients' properties.
Paver installation is easy compared to natural stone or concrete installations. It means they can complete the job within a shorter time frame.
It is also easy to maintain paved surfaces, and you do not have to worry about weekly cleaning.
You have the option to get the paved areas seal coated once every two years. This application protects the paver surfaces from scratches and stains.
Interlocking concrete pavers are extremely cost-effective, which makes them an excellent choice for vast landscapes as well.
Hire Local Paver Installers
When you hire the services of a proven company for paving installation, they will provide you detailed information about the different paver brands and products in the market. Natural stone, brick and concrete paving all have different characteristics and qualities. In some cases a mix-and-match of these different materials can create a superb, unique look in the landscape.

This is where the creativity and skill of the hardscape designers comes into the picture. They also use their vast experience and knowledge to create a well-balanced look in your outdoor spaces. The experts will offer recommendations that will help you make the right flooring choice for your outdoor spaces.

Ensuring that your paved areas are resilient and appealing involves expertise and skill. Companies like Huntersville Landscaping make sure their clients get value for money, regardless of the shape and size of the project. We also offer services including residential lawn care and commercial lawn care programs.

"MORE ARTICLES"
Designing an Outdoor Kitchen
Lawn Care Services